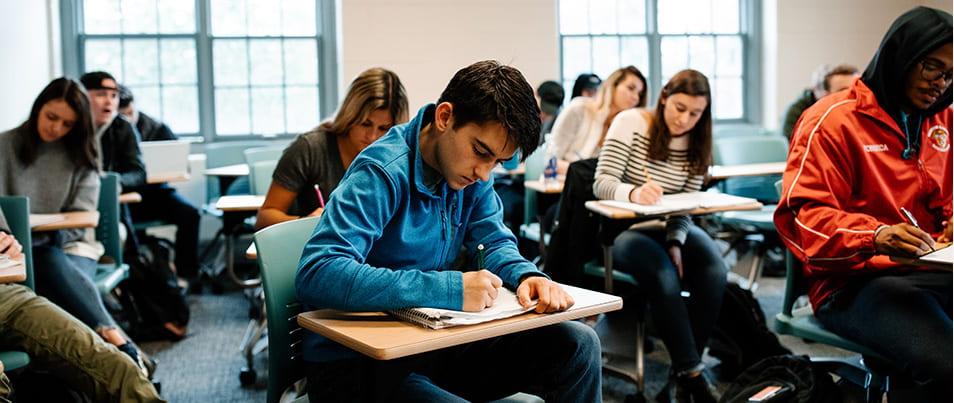 Majors and Minors
At its core, economics seeks to understand how society makes choices in the face of scarcity. Students who major in economics acquire skills that help them understand how such choices are made by individuals, firms and governments. The skills of economics majors are not only useful in business, but can also be used to work on larger social goals such as policies designed to promote equity and reduce poverty.
On top of the standard courses offered in economics, the PC Economics Department offers a wide range of engaging classes including: the Economics of Developing Nations, Health Economics, the Economics of Gender, the Economics of Poverty and Discrimination, Money and Banking, the Economics of Sports, and Environmental and Natural Resource Economics.
Our Majors
The Economics Major
Gives the student a well-rounded view of the economics discipline. It prepares students for a career in a variety of fields including (but not limited to): consulting, real estate, financial analysis, policy analysis, and market research. Students also interested in pursuing a law school degree will find that the Economics major provides a solid foundation for graduate law programs.
The Business Economics Major
The distinguishing feature of the Business Economics major is that students are required to take, in addition to economics courses, three courses from the Business School: Financial Accounting (ACC 203), Managerial Accounting (ACC 204) and Managerial Finance I (FIN 207). These business courses will provide the Business Economics major with some of the basic tools, concepts, and language used in businesses. Students who have a keen desire to work in a business environment, but with the broad skillset of an economist, would do well to choose this major.
The Quantitative Economics Major
This major is attractive to students with an interest in the quantitative and mathematical side of economics. Compared to the other economics majors, quantitative economics requires student take additional courses in mathematics and courses in advanced empirical analysis. The quantitative economics degree program is ideal for students who wish to pursue graduate student in economics, business or other social science fields. The Quantitative Economics major qualifies as a STEM program.
The Minor
Economics minors complete a total of six courses (18 credits): ECN 101, 102, 201, 202, and two economics electives. Please consult the College's Undergraduate Catalog for additional requirements at the link below:
For more information on our programs and for a listing of course descriptions, please see the course catalog.
Labor-Management Relations Program
The Labor-Management Relations Program is an interdisciplinary program of study and is designed to complement the academic pursuits of a student who is enrolled in a formal concentration. As such, all Providence College students are eligible to participate. The program consists of six required courses and three elective courses. The objectives of the program include the following:
To gain an insight into the relationship that exists among workers, unions, and employers at the workplace;
To develop an appreciation of the unique contributions that labor and management make under the American enterprise system;
To gain an understanding of the complexity of labor-management problems and a facility for analyzing them; and
To further develop basic academic competencies through a systematic examination of labor-management relations issues
For more information and a list of required courses, please see the course catalog.